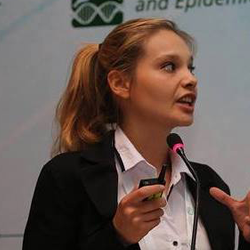 Email: mabarbag@uth.gr​​
Phone:
 Contact with students: Friday 12:00-14:00
Radiology and Ultrasonography of animals. Ultrasound functional imaging for the diagnosis of mammary diseases. Visual investigation of embryonic development, embryonic programming and intra-uterine restricted growth.
Mariana Barbagianni is an Assistant Professor at the Faculty of Veterinary Science, University of Thessaly since March 2021. She was born in 1987, in Kozani. She is a graduate and holds a PhD of the same Faculty, with further training in Diagnostic Imaging at the Companion Animal Clinic of the Department of Veterinary Medicine of the Aristotle University of Thessaloniki. She is the author of 25 scientific publications, with more than 80 citations and a total h-index of 10. She has participated in more than 43 oral and posted communications at national and international scientific conferences. She is a reviewer in 2 scientific journals. She has worked as a veterinarian in a pet clinic and in the Veterinary Service of the Region of Thessaly.