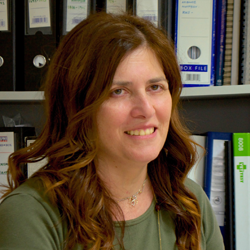 Contact with students: Τετάρτη 14:00 – 16:00 Πέμπτη 13:00 – 15:00
Vector borne, zoonotic and wildlife diseases, clinical pathology and diagnostic medicine, clinical pharmacology, and quality management
Dr. Labrini V. Athanasiou graduated from the School of Veterinary Medicine, Faculty of Health Sciences, Aristotle University of Thessaloniki (SVM-AUTh), Greece, in 1993. In the same institution, she completed a one-year internship (1994) in the Clinic of Medicine and a PhD thesis (2004). After completing a MSc in Public Health in the National School of Public Health, Athens Greece she spent 12 years as a Manager in the Regulatory Affairs and the R&D department of the leading veterinary pharmaceutical company in Greece.
Dr. Athanasiou holds an adjunct academic/ faculty position in the Faculty of Veterinary Medicine, University of Thessaly since 2004, where is currently a Professor.
She has been appointed as supervisor of more than 30 post-graduate interns and she has participated as supervisor (1), member of the advisory (9) and/or evaluation committee (7) of more than 10 doctoral theses.
She has published more than 110 scientific papers in peer-reviewed international journals and more than 130 oral communications and posters in the proceedings of international and national congresses. She has served as a reviewer for more than 30 scientific journals and she is currently member of the editorial Board of the "Veterinary Clinical Pathology" and Guest Editor of the "Microorganisms" journal.
With a solid background in quality policy from the industry, she has been appointed as coordinator of the quality assurance unit of the Faculty of Veterinary Medicine, University of Thessaly and she had been member of the Senate of UTh (2011-2012). She is member of expert committees (EMEA Clinical trials advisory group), evaluator of national and EU research and educational programs (Lifelong Learning Center of AUTh, VETCEE for the evaluation of postgraduate programs).