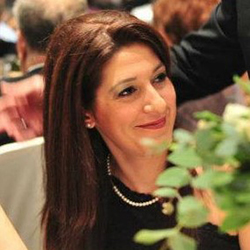 Contact with students: Τρίτη, Τετάρτη 09:00 – 11:00 Πέμπτη 09:00 – 11:00
Impact of biomaterials in bone defects, Impact of barrier gel for adhesion prevention in orthopaedic surgery, Impact of stem cell therapy in cartilage repair, Gastro-oesophageal reflux during anaesthesia
A.I. Sideri received her veterinary degree from the Faculty of Veterinary Medicine of the University of Thessaly in 2000. At the same faculty she completed a post-graduate program in Surgery as well as her PhD degree in 2007. During 2004-2011 she worked as a Special Technical Laboratory Staff at the same Clinic as well as a Postdoctoral fellow at the Faculty of Veterinary Medicine of Aristotle University of Thessaloniki.
Since 2008 she undertook the theoretical lecturing and clinical training of the course of orthopaedic surgery and radiology of the musculoskeletal system.
Currently, she is an Assistant Professor in the Faculty of Veterinary Science of University of Thessaly, where she serves since 2011.
She is the supervisor of one PhD-student and has been a member of the advisory committee of 6 PhD-students and a member of the examination committee of 5 Master of Science thesis.
She has participated in 43 international and national scientific meetings. Her published work includes 15 articles in peer review journals (cumulative impact factor: 30.171) and she has received over 160 citations.